Toggle switches - PIC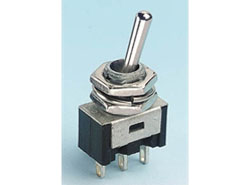 Rugged and reliable miniature toggle switches suitable for industrial use, with a long mechanical and electrical life cycle. Complete with mounting hardware.


Rating:
3A 125VAC / 1A 250VAC
Dielectric Strength:
1000V AC / 1 min
Contact resistance:
<30mΩ maximum
Mechanical life:
>100,000 cycles
Electrical life:
>10,000 make/break cycles at full load
Dimensions:
SPDT: 9.8mm H x 13mm W x 8mm D
DPDT: 11.3mm H x 13mm W x 12.5mm D
Contact material:
Nickel plated brass.
Panel cutout 7mm
RoHS compliant.
For biased switches (on) denotes momentary action.

| | | | | |
| --- | --- | --- | --- | --- |
| Product Number | Data Sheet | Product Name | Price | Add to Basket |
| 211-012 | | SPDT ON-OFF-ON toggle switches - PIC pack of 5 | £5.50 | |
| 211-013 | | SPDT ON-ON toggle switches - PIC pack of 5 | £5.50 | |
| 211-014 | | DPDT ON-ON toggle switches - PIC pack of 5 | £5.80 | |
| 211-015 | | DPDT ON-OFF-ON toggle switches - PIC pack of 5 | £5.80 | |
| 211-034 | | SPDT ON-OFF-ON toggle switches - PIC pack of 1 | £2.21 | |
| 211-035 | | SPDT ON-ON toggle switches - PIC pack of 1 | £2.21 | |
| 211-036 | | DPDT ON-ON toggle switches - PIC pack of 1 | £2.21 | |
| 211-037 | | DPDT ON-OFF-ON toggle switches - PIC pack of 1 | £2.21 | |