Bistable/Latching Relay Module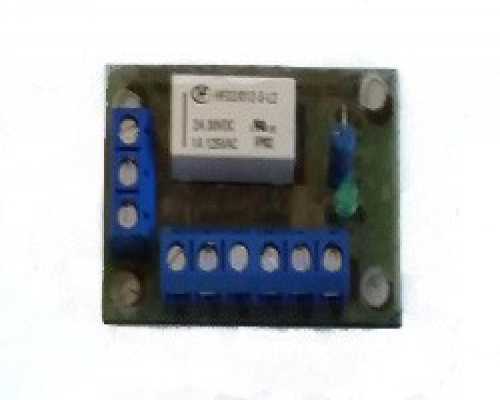 This is a compact Bistable/Latching Relay Module and can be used in various power functions and or applications which require a memory state.
This Module is pre assembled, tested and made from high quality FR4 board.
Terminals 1, 2 and 3 and the set/reset terminals. Terminal 3 common negative.

Terminals 4 and 5 provide the supply voltage which gives terminals 6 and 7 as output 1 (Set) and terminals 8 and 9 as output 2 (Reset).

When power to the module has been disconnected the module remembers its current state for when power is reapplied. The LED is lit when control voltage is applied and the module is ready for triggers set/reset. The control voltage is rated at 12v DC – 25v DC
Comes supplied with PCB standoff pillars.
| | |
| --- | --- |
| Control power supply | 12v DC – 25v DC |
| Set/Reset | 10v DC - 20v DC |
| Output Voltage | 12v DC – 25v DC 2A (Depending on the Control power supply voltage) |
| DPDT Relay Module | 25v DC 2A (up to a 60W motor) |
| Board size | 48mm x 30mm x 16mm |
Item number
Data Sheet
Product Name
Price
Add to Basket
219-006
Bistable/Latching Relay Module
£5.49
Bistable/Latching Relay Module Wiring Instructions

Terminal 1: Positive set voltage trigger, max 20v DC (10-20v DC)
Terminal 2: Positive reset voltage trigger, max 20v DC (10-20v DC)
Terminal 3: Negative set/reset voltage.
Terminal 4: Negative input voltage max 2A 12v – 25v DC
Terminal 5: Positive input voltage
Terminal 6: Output voltage 1. (Positive) in set mode only, no output in reset mode
Terminal 7: Output Voltage 2. (Negative) in set mode only, no output in reset mode
Terminal 8: Output Voltage 2. (Negative) in reset mode only, no output in set mode
Terminal 9: Output voltage 1. (Positive) in reset mode only, no output in set mode