MK3 Mega Capacitor Discharge Unit (CDU)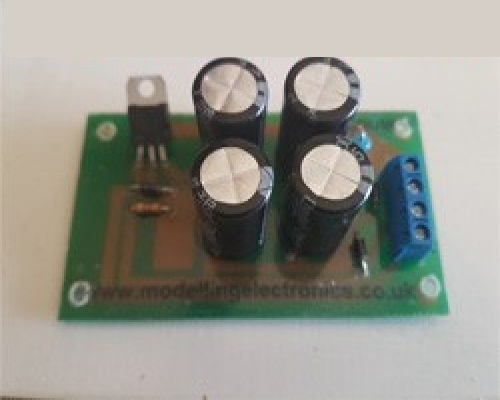 Extream high powered Capacitor Discharge unit. Designed to work with point motors from all manufacturers.
This is the very latest from our Capacitor discharge units. The all new MK3 version. The MK3 has the added function of the LED power indicator. This alone serves as two functions. It shows when the discharge unit is powered and ready for use.
The extra added function that the MK3 LED has is when the unit is switched off all other capacitor discharge units store power, if your model railway layout is kept in an out building or shed the power left in the units mixed with the damp can damage the units. The MK3 power LED will dissipate any reaming charge left in the unit within a few seconds making sure your unit is powered down and drained.
The Mega MK3 has four capacitors with virtually 20,000uf which ensures fast responsive action when switch four or more points at any one time. This unit is also useful for larger scales or with points operating some distance from the control board
Provides a high current pulse to "snap" points across positively from the 4700uF capacitor.
Limits subsequent points current to prevent coil burn out.
Prevents voltage drop to other parts of the installation during points action.
Operates on AC or DC.
Up to 20v input
Item number
Data Sheet
Product Name
Price
Add to Basket
102-004
Mega capacitor discharge unit MK3
£10.82
Capacitor Discharge Unit Wiring Instructions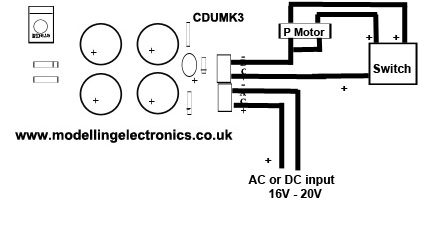 The drawing above shows a very simple arrangment using the capacitor discharge unit (CDU) with one point motor connected.
This Capacitor discharge unit can control two or four point motors simultaneously with one operation of a switch.