Multi Voltage Power Supply Unit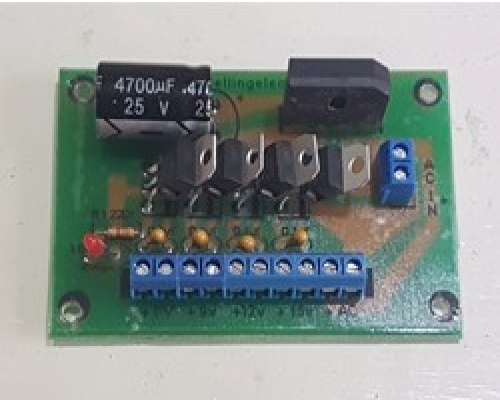 This is our multi voltage power supply unit, this unit can be either powered by AC or DC voltage. Max recommended input is 24v and 4amps. Output voltages are internally limited to max 1 amp. This is a must have circuit for people who have one power supply but require various voltage outputs. The input (Supply) power can be either AC or DC, the voltage supply range is 16-24v
Internal current limiting (1A) and thermal shutdown.
The output voltages are fixed DC voltages. These are 6v DC terminal 1, 9v DC terminal 2, 12v DC terminal 3 and 15v DC terminal 4.
AC output terminal 5 is directly sourced from the AC input, if DC is used as the input AC out will be a DC voltage out. The voltage on this terminal is the same voltage as the input terminal and protected on the positive pin by diode 5.
Item number
Data Sheet
Product Name
Price
Add to Basket
220-001
Multi Voltage AC + DC power supply unit
£12.00
Multi Voltage Power Supply Unit wiring instructions